At OKM, we are devoted to creating products capable of pleasing our customers.
Our goal is to provide high-quality products (ISO 9001-compliant) at low costs and with minimal delivery times.
In providing support for customers, we strive to be courteous, prompt and motivated by the principle of innovation.
At OKM, our goal is "Creating Products Capable of Pleasing Our Customers."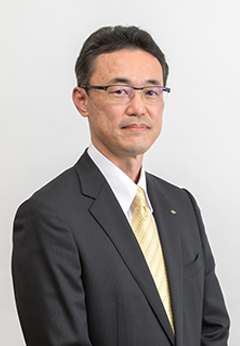 Shinichi Okumura, President, Representative Director
OKM was founded in 1952 as Okumura Engineering Works Co., Ltd.
With its head office and a factory in Shiga Prefecture, OKM began manufacturing and selling valves.
Our founding philosophy is exemplified by our corporate mottoes:
Provide innovative technology
Provide superior quality with minimal resource consumption
Keep an open mind and a welcoming heart
Contribute to the local community
With these ideas in mind, we strive to instill shared values in all OKM employees while ensuring marketing that meets the needs of customers in addition to providing satisfactory product development, advanced production technology, and reliable inspection systems in an effort to ensure a satisfying quality assurance system.
Through our main global production bases in Japan, Malaysia, and China, our mission at OKM is to become a trusted partner by continuously providing new value that further strengthens automatic control technology, fluid control technology, and other technology centered on valves.
Through such partnerships with customers, we strive to create sustainable products that pose no environmental burden as we work toward ensuring constructive contributions to society.
Shinichi Okumura, President, Representative Director