Marine Valves
Marine butterfly valves featuring OKM's proprietary seal technology with low torque, long service life, and excellent economic efficiency

OKM offers a diverse lineup of marine butterfly valves. Each product embodies superior technology and various advancements.
OKM's valves are designed for use in a variety of situations, including tankers and chemical-carrying vessels. Each product can be selected according to its designated purpose.
612X 615X
Max. service pressure: 1.0MPa
General-industry valves that reduce required effort thanks to screw hole connections ideal for block construction
弁OKM's "Soft Touch Seat" provides crimping at a gentle angle when the valve is closed and the disc comes into contact with the seat surface. Seat contact is smooth and trouble-free, ensuring as economical and long a seat ring service life as possible. Combining this construction with a reduced torque allows for a more lightweight and compact actuator.

Applications:Seawater/fresh water use in engine compartments and decks, bilges, fuel lines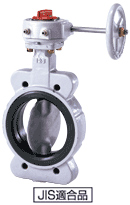 The photo shows model 612X(A).
606K 606F
Max. service pressure: 1.0MPa
Double-flanged cast-steel hull valves with a space-saving design, simple operability, and excellent cost performance for alternatives to angled valves
Thanks to OKM's proprietary "Touch" seat mechanism, the disc crimps against the seat without any friction.These flange-type butterfly valves offer safe and reliable fluid control and can be safely installed at piping terminals and mounted directly on hulls.

Applications:Waterline ship bottom, outboard, and bulkhead valves in engine compartments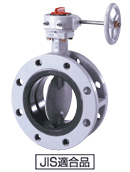 The photo shows model 606K.
602A
Max. service pressure: 1.0MPa
Lightweight, compact design ideal for conveyance
OKM's proprietary "Soft Touch Seat" combined with low torque and excellent corrosion resistance guarantee a long service life. Made with an aluminum die-cast body, this butterfly valve is both light-weight and compact.

Applications:Passenger ship air-conditioning refrigerators, hot/cold water lines, engine cooling lines, lubricating oil lines

* 602A models are not available in long-neck or long-shaft varieties.
* The mounting direction of the actuator cannot be changed.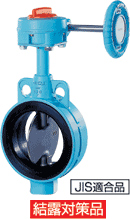 541T 5422
Max. service pressure: 1.0MPa
Proprietary dual-eccentric construction for tight shut-off of chemicals and other dangerous fluids
OKM has developed a self-sealing mechanism that ensures close contact for both the fluid and the seat depending on the fluid pressure applied to the disc and seat. The built-in dual eccentric mechanism provides long service life and low-torque operation. The PTFE seat ensures high performance with a wide range of fluids, most notably high-temperature fluids.

Applications:Chemicals, oil tanker loading piping, cargo tank air ventilation piping

* Contact us for applications above 1.0MPa.
*The handle shown in the photo is an optional accessory.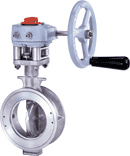 The photo shows model 541T.
111S 121S
Max. service pressure (111S): 1.0MPa / Max. service pressure (121S): 2.0MPa
Dual-plate check valve with excellent water hammer prevention performance
This wafer-type product uses two semi-circular discs and springs for the operating component. Compared with conventional swing check valves, this allows for a drastically slimmer design. In addition, the responsive and reliable operation helps prevent water hammer. This ensures the safety of the piping lines are maintained.

用途:Applications: Seawater pump discharge, nitrogen gas tank filling, cargo line backflow prevention