5410 Series
High-Performance Butterfly Valve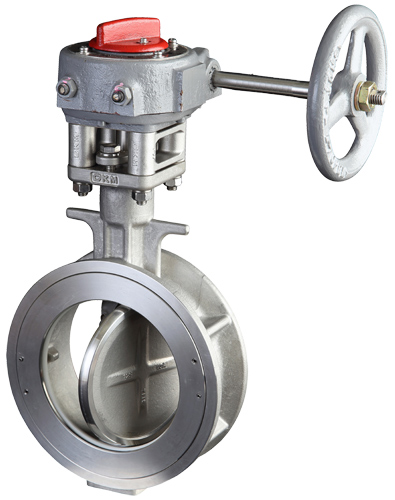 Applications
Chemicals, petroleum oil, high-pressure steam, high-pressure fluids
Actuators
Lever, gear, cylinder, electric motor
○ Max. service pressure: 1.0Mpa
○ Piping flanges: JIS 5K, 10K
○ Production size: 50 A to 600 A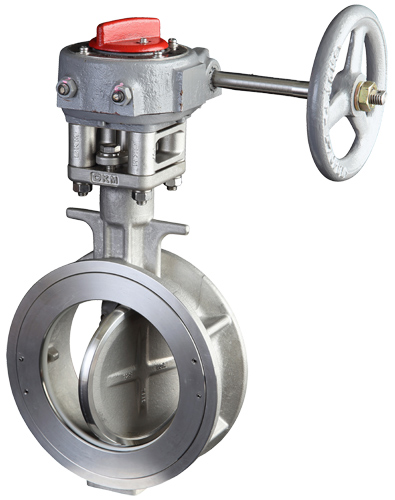 High-performance maximum service pressure of 1.0 MPa and a service temperature of -29°C to 232°C
Compact, lightweight design with cross rib-shaped thin disc with added strength Space-saving design with no piping complications
Lost wax structure for an even more beautiful appearance
Self-sealing mechanism ensures tight shutoff
OKM has developed a new mechanism that ensures close contact for both the fluid and the seat depending on the fluid pressure applied to the disc and seat. A higher fluid pressure results in a firmer seal, allowing for even greater reliability. Even in situations where bi-directional pressure is applied from both sides, the structure ensures that the fluid and the seat remain in close contact.
Long service life and low torque eccentric, double-flanged structure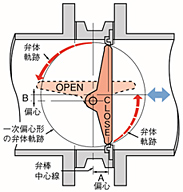 The eccentricity of both A and B is designed to keep the disc and seat in a non-contact state until fully closed. This eccentric, double-flanged structure provides two notable benefits.
1. Eccentric, double-flanged disc structure
The reduced friction between the main unit seat and the disc means a longer service life of the seat in addition to operation with minimal torque.
2. Extremely simple seat replacement
Removing the valve-side set pin of the set ring allows the seat to be removed, enabling simple on-site seat replacement.
Three seat variations for wider support
The seat is available in three different variations: a synthetic rubber seat, a Teflon
®
seat, and a metal seat. This allows for usability with a wide range of fluids and control conditions—from slurry sludge and chemicals to high-pressure steam.
1. Synthetic rubber seat
With support for controlling high-temperature fluids up to 150°C as well as abrasive sand-like fluids, this seat is perfect for general-purpose butterfly valves.
2. Teflon® seat
The Teflon
®
seat adds usability with highly corrosive chemicals and high-temperature fluids up to 232°C.
3. Metal seat
The metal seat can be applied to high-temperature fluids that cannot be controlled using rubber or Teflon
®
seats. Such seats can also be used as a substitute for gate valves, globe valves, and ball valves.
Download